TESTIMONIALS
Helen – Bury 7.10.17
After being recommended by a relative I booked to see Rachel with regards to my anxiety, self-worth and separation issues. I really had no idea what to expect and have never done anything like counselling before.
As we started the process I found that my body was reacting in ways I had no control over, i.e. when talking I had my eyes closed at some points but tears where rolling down my face, we did a few rounds of the movie box as I felt that was helping to start to move my brain and thoughts away from a terrible split I had been through, the main thing I have taken out of that was the fact I can change how I see it, I can change the outfit I was wearing, I can change how I feel about it, I can push it away and bring it back at any point, it brought my anxiety right down as I felt in control.
We also did the tapping and the chanting which I'm still using , the words used while tapping have stayed with me, almost like a ritual, if my self-worth dips I tap my arm and repeat what rachel said I am good enough I always was, the Titanic happened(my movie name)  it was sad and it hurt but I am good enough I always was!!
I've noticed if I'm feeling insecure I go back to the tapping on my arm and my head that's where I find it almost sooths me, I take my mind back to the picture of the movie moving further away from me, the biggest change I found was I'm calmer I feel like a knot that has been unravelled as through the process we found that this has all started from being left as a child, which  I never would of got the clarity about that without this process.
Dion (20) 17.09.2017
My main issues before meeting with Rachel was both anger and regret – I did have physical pain as well, generally in my stomach. I presented Rachael with my issues and she was so understanding and calm. I felt like I could open up to her and that alone was a step forward I wont go into the finer detail as I will be up typing all night but gradually throughout the process of 6 sessions with Rachael, she honestly changed my life. I felt happier within myself and I could see changes within myself day by day. I know people throw the  " I would recommend him/her to anyone in a similar position" quite often but I have already put two people in touch with her and their feedback was very similar.
JOHN D 12.7.17 "When I first visited Rachel I was at the end of a very low point in my life following the breakdown of my long term relationship and pending redundancy.   I was feeling sad, insecure, unloved and anxious. Rachel enabled me to talk about the current issues, situations in previous relationships and careers that still affected me and events from childhood that had played a major part in my life. I went from feeling sad, anxious and vulnerable to feeling positive and calm.  Events at work whilst still stressful do not trigger the outbursts that I had experienced previously. I feel more centered and in control.
"Hi Rachel, Many thanks for sending the things from the family workshop into school – they look brilliant! Both the families thoroughly enjoyed the sessions and some of the children have been trying new foods! We will definitely be working with you again in the future, the work that you have done with the children is so valuable.  Sorry I didn't get chance to see you that much this time when yo have been in, I seem to have been manic.
Speak to you soon.
Deputy Headteacher & SENCO Joseph's RC Primary, Ramsbottom," 2016
Betty – Tottington, Bury 2016
"Reiki is something myself or my husband has ever given a thought to especially as were devoted Christians.  Rachel  started to tell us the past history of Reiki. She also pointed out to me that having Reiki doesn't mean you could not do it if you were a Christian.
Sadly I have a mental illness, and I'm  a very nervous person and unable to relax.  That day I went to Rachel's.  Yes I was nervous I didn't know what to think.  One hour 10 mins later Rachel woke me.   Before I started Reiki, my head was always busy, it was so full some days I felt my brain was touching my head.  It was so full and busy, busy, busy all the time,   I love the calmness that Reiki has brought.  My head is no longer busy going round and full of what I call rubbish.
If you would like an experience and  that wonderful feeling of serenity and calmness please give it a go and ring Rachel.  I am happy to do Reiki with Rachel every week. And the most wonderful thing is my husband also has Reiki now."
WORKSHOP TEENAGE STUDENTS 2016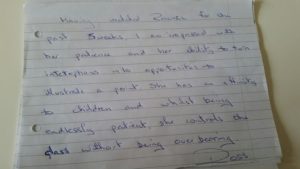 Jean – Halifax (Yorkshire)   
I began my food diary after talking to Rachel at length concerning foods that can effect your well being.
Having suffered for almost my entire adult life from Psoriatic Arthritis and Lupus I really needed help. My medication is necessary to control damage to my joints, but at times it makes very sick as its a chemotherapy drug.
I really had reached  a point with my health that most of my free time was spent asleep or just feeling very unwell. I had nothing to loose, so it began…….the new me !
I cut out wheat, almost all dairy, all processed foods and my beloved potatoes. You really need to be patient I was warned you can feel worse before you feel better. 

Looking back through my diary it took approximately 9 weeks before I noticed there was a big difference..but it happened with a lot of thought and determination. Food does heal the right foods that is, fruit,nuts, vegetables, fish, meat,(not too much red meat for me)and not forgetting a little dark chocolate 

I passed my 5 month anniversary a week ago and it is just part of my life now. My skin and hair look and feel better, fatigue has more than halved and I have lost weight 

Thank you for guiding me on the right path Rachel.
Love & best wishes always
Jean"