Max 5 Group Members
Sessions Face to Face or online depending on Geography.
35 x 55* sessions available between Members of the group
Group Family Sessions and individual or shared sessions.
Flexible use of time (telephone calls, online sessions, one to ones, groups)
Receive A3 Charts, PDF Charts Free App & Ebook The Spiral of Life
Social Media Group Support
Certificate on Completion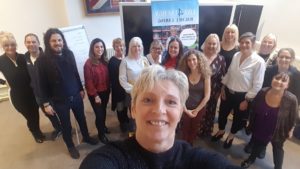 HOW does it Work?
We work with each clients individuals system using sight, hearing, touch, smell, taste, and your 6th sense your energy system.  We do this by using Energy Therapy to clear triggers and blockages such as stress, anxiety and physical pain.
We give you the 5 step process to use to keep this sustainable throughout your life journey.
We also give clients skills to take away for life so they are empowered to carry on this process and help those they care about in our absence.
Free Wall chart included in the package for quick reference
Free APP for clients and their family at home to engage in and continue their healing outside the workplace.
Free E-Book The Spiral of Life for families to work at home
Access to Online support groups via Social Media for the whole family.
Face to Face and Online Zoom/Skype sessions for individual or group work available.
Extended and flexible help for teens and children at home if required.
Recognition of physical symptoms for psychosymatic stress.
Cover the wh

ole family for

£1599.00

Get in Touch to discuss your families best options.  3 Part payment option available.  Contact us direct to discuss.